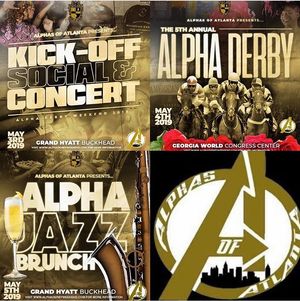 Belle Morgan | April 1, 2019
The Alphas of Atlanta have done it again.
The 5th Annual Alpha Derby Weekend is scheduled to take place in Atlanta from May 3-5, 2019. The #AlphaDerby, a fundraising event series, is centered around the style and pageantry of one of the most well-known horse races in the world, The Kentucky Derby. 
Alpha men from chapters located in Atlanta, Morrow, East Point, Conyers, Gwinnett, Cobb, Henry, and DeKalb have collaborated to host a first-class experience that will benefit local non-profit educational foundations. This is the true definition of a party with a purpose.
PUSH Radio had the opportunity to speak with event co-founder and member of Alpha Phi Alpha Fraternity, Inc., Robert Cunningham, about the signature fundraising event. Hear the interview below.
For more information about the #AlphaDerby go to: http://www.alphaderbyweekend.com
Scenes from the 2018 #AlphaDerby