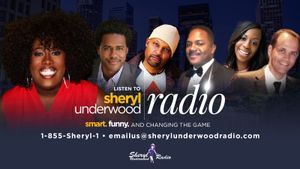 Belle Morgan December 8, 2018
PUSH Radio has become an affiliate of Sheryl Underwood Radio. Beginning December 10, PUSH Radio listeners can enjoy Sheryl on our airwaves. Download the LIVE365 app from GooglePlay to listen or go to ipushradio.com to listen.
Sheryl Underwood Radio is entertaining and features one of the funniest and smartest comedians working today – Sheryl Underwood – and a crew of seasoned radio and entertainment veterans. The show is formatted to fit any time slot. Sheryl Underwood Radio is smart, and speaks to the issues and interest of the Urban (18-34) and Urban Adult Contemporary (25-54) listener. Sheryl Underwood Radio is relevant, tackling the hot topics of the day in a snappy, engaging, informative format. The innovative Sheryl Underwood Radio show provides the energetic conversation about relationships, entertainment, sports and hot topics of the day, and YOU provide the music your listeners want to hear. 
Sheryl Underwood Radio airs on over 294 radio affiliates, with an estimated reach of over 14 million listeners by the combined reach of the signals strength of 294 affiliates.